Under the guidance and support of Guangdong Development and Reform Commission, China Energy Engineering Group Guangdong Electric Power Design Institute (GEDI), The University of Edinburgh and China Resources Power cosigned a cooperation agreement on the prefeasibility study of China Resources Power Haifeng Power Plant CCUS ready and CCUS demonstration project.
The demonstration project will be based on the coal-fired units of CRP Group Haifeng Plant. In stage I, the Carbon Capture Test Platform is planned to build on Unit 1 of the plant with two sets of carbon capture facilities designed, one testing ethanolamine technology and the other testing with 50t/d/set CO2 capture capability. The demonstration project will be built in the country's first multi-technology international platform of international carbon capture technologies, and also the first middle-scale CCUS testing and demonstration project in South China. In stage II, a large-scale CCUS demonstration project will be designed and constructed based on unit 3 and unit 4 of the plant, with capacity of 1 million tons captured per annum.
Until now, GEDI and The University of Edinburgh have completed the research report on CRP Haifeng Power Plant coal-fired units 3 and 4's carbon capture-ready plan, which will be the first carbon capture-ready design plan in China. The report discusses and investigates the feasibility, safety, economics of and impact on unit performance of carbon capture-ready facilities. Subsequently, a pre-feasibility study of the carbon capture test platform and demonstration project of phase I of the project was handed to CRP Group Haifeng Plant. On March 14, 2016, the Technology Evaluation on CRP Haifeng plant (Guangdong Carbon Capture Demonstration Project Base) and the Research on the Testing Platform was launched in the opening ceremony of the UK-China (South China) Low-Carbon Week, and future work was further discussed in GOCCUS Demonstration Project Work Division Workshop during that week.
The preliminary technology screening of GCCT began in 2014, with 5 out of 14 technologies shortlisted into the technical test pool, including physical adsorption, chemical absorption and membrane separation process. At the second round of screening, amine-based absorption and membrane separation technologies are finally selected as first batch to be tested. The capital investment of Phase I is over 1 billion CNY.
The Platform includes a Test Platform Area ( i.e. pretreatment unit , compression unit, and CO2 storage unit), a Chemical Laboratory and a Technology & International Collaboration Hub.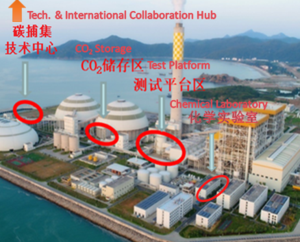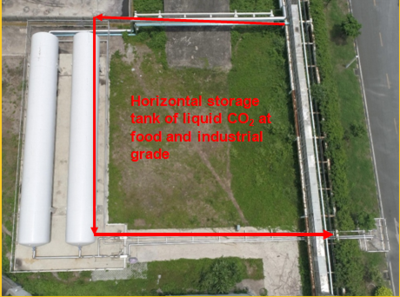 Phase 1 is designed with a CO2 capture capability of 20,000 t/a. Reserves the test interface and space for other innovative carbon capture technologies, e.g. physical adsorption CO2 capture technology.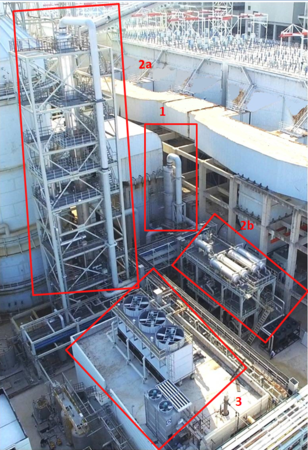 1.Pre-treatment Unit
Reduce the temperature of the flue gas of power plant, furtherreduce the content of SO2, NOx, acid mist and otherpollutants in the flue gas, reduce the corrosion of carbon capture device andthe impact on capture efficiency.
2.Carbon Capture Unit
a)Amine-based capturedevice: in the CO2 absorber and stripper, amine solvent reacts with CO2 in the flue gas, andfinally obtains the industrial grade 98 % CO2.
b)Membrane capture device: after separation and purificationthrough the three-stages membrane component, high purity of CO2 can be obtained.
3.Compression Purification Unit
After further compression, cooling, dehydration and removal ofimpurities, liquefied CO2 product is stored in the corresponding industrial-gradeor food-grade CO2 storage tanks according to its purity.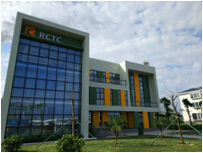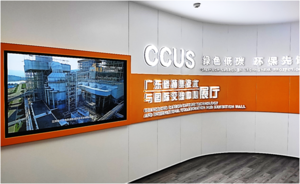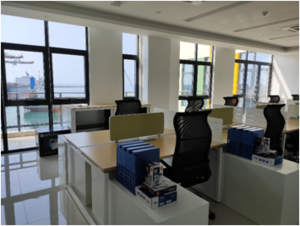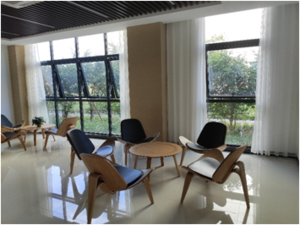 Technology& International Collaboration Hub
Inauguration Ceremony of GCCT was heldat CRP Haifeng on 15th May 2019. Over100 leaders and experts from 55 organizations in 16 countries attended thisevent which was witnessed by the officials from Ministry of Ecology andEnvironment of the People's Republic of China, Administrative Center forChina's Agenda 21, Department of Ecology and Environment of Guangdong Province,UK Department for Business, Energy & Industrial Strategy, U.S. EmbassyBeijing, Norwegian Embassy Beijing, Asian Development Bank, China EnergyEngineering Group Guangdong Electric Power Design Institute Co., Ltd. /China UK-China (Guangdong) CCUS C entre and China Resources Power Holdings Company Limited.