British and Chinese Organisations Jointly Developan Energy and Climate Change Innovation and Financing Platform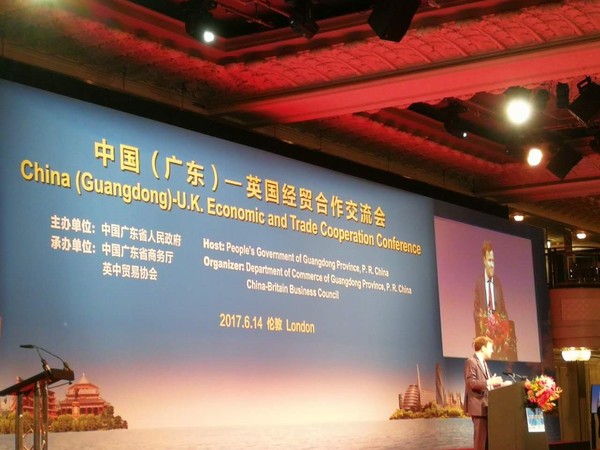 The UK-China (Guangdong) CCUS Centre (Registration name in China as "Guangdong CCUS Centre", GDCCUSC), Sino-Singapore Guangzhou Knowledge City Administrative Committee (SSGKC), China Energy Engineering Group Guangdong Electric Power Design Institute Co., Ltd. (GEDI), New Silk Road Energy Ltd (NSRE) and CO2DeepStore Ltd, have developed a potential collaboration to develop the Sino-British Energy and Climate Change Innovation and Financing Platform (SBECC) in Guangzhou city, in Guangdong, China, and to provide financing and engineering support for the ACORN Project in Scotland, UK.


In the morning, 14 June 2017 (UK time), under the witness
of Mr Hu Chunhua, Secretary of Guangdong Provincial Party Committee, Mr Liu Xiaoming, Chinese Ambassador in the United Kingdom, Mr Greg Hands, British Minister of Trade and Investment, the five-party MOU was signed by following representatives: Mr Zhou Yawei, Chairman of Sino-Singapore Guangzhou Knowledge City Administrative Committee, Mr Qiao Xubin, Deputy President of China Energy Engineering Group Guangdong Electric Power Design Institute Co., Ltd, Mr Tim Yeo, Chairman of New Silk Road Energy Ltd, during the activity of "China (Guangdong) - UK Economic and Trade Cooperation Conference". All participated parties are interested in establishing a Sino-British Energy and Climate Change Innovation and Financing Platform (SBECC) in Guangzhou to promote UK-China collaboration in energy and low-carbon technology research, the business of UK energy SMEs in China, to facilitate investment from China to the UK, and energy and low carbon education, with an estimated total investment amount of £30 million pounds.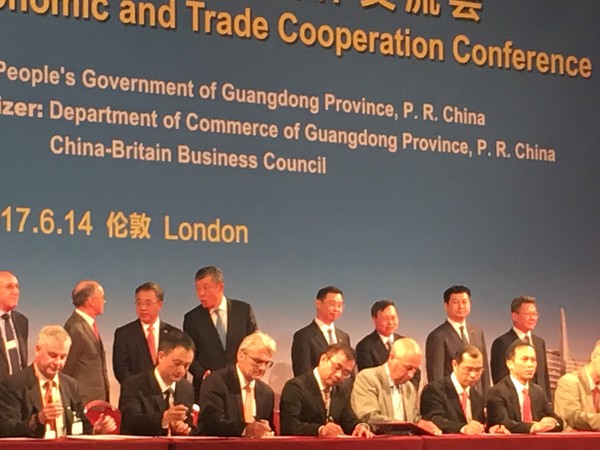 With support from GEDI, GDCCUSC will organise and administer the SBECC preparation process until a joint venture is established. SSGKC will provide 10,000 m2 initial space and policy support for setting up SBECC. NSRE will also contribute in project finance and business development in the UK, including investigating the setting up of a New Silk Road Energy Fund and facilitating UK SMEs entering the Chinese market.
GDCCUSC and CO2DeepStore are interested in setting up a project office in SBECC. GDCCUSC and CO2DeepStore will jointly facilitate knowledge two-way transfer between the ACORN project and GOCCUS, two flagship projects in the UK and in Guangdong, China respectively. NSRE and GDCCUSC will jointly seek to identify Chinese investment for ACORN project following China's One Belt and Road (B&R) initiative.
Dr Liang Xi, Secretary General of UK-China (Guangdong) CCUS Centre, suggested that phrased development on the above plan is necessary. He said we should start from exploring the current important tasks, base on the actual demand of Guandong Province, other areas of China and international market, therefore, to build up a practical service platform of innovation and financing .
Introduction to Orgnisations
The UK-China (Guangdong) CCUS Centre (Registration name in China as "Guangdong CCUS Centre", GDCCUSC) was initiated by GEDI, Shenzhen Linkschina Investment Advisory, UK CCS Research Centre and Scottish CCS (the last two both based at the University of Edinburgh). Its legal entity is the GDCCUSC which is an open platform to support industrial development, academic cooperation and process design in CCUS, and other near zero emission technologies to mitigate greenhouse gas emissions and other pollutants. GDCCUSC is leading the development of a one million ton scale Guangdong Offshore Carbon, Capture, Utilization and Storage Project (GOCCUS), through a staged approach, which includes capturing CO2 from a conventional power plant with post-combustion capture, capturing CO2 from other high concentration sources with pre-combustion capture and storing the CO2 in an offshore geological site.
China Energy Engineering Group Guangdong Electric Power Design Institute Co., Ltd. (GEDI) focuses on energy, public–works, environmental and communication engineering field, and provides integrated engineering planning consultancy, engineering design, EPC services, investment and operation, management consultancy solutions to governments and private sector clients in diverse industries around the world. GEDI has significant experience in low carbon and green energy area. In nuclear power industry, GEDI has participated in constructing 30 units of nuclear power plant with the total capacity of 31377MW which account for 52.6% of total capacity of nuclear power plant in China. GEDI also participates in ultra-low emission coal fire power plant, wind farm and solar energy projects, and the total capacity of such projects in the scale of 25420MW, 9210MW and 1200MW respectively.
The Sino-Singapore Guangzhou Knowledge City (SSGKC) continues as the next iconic project of Sino-Singapore cooperation after the Suzhou Industrial Park and Tianjin Eco City. The SSGKC project was jointly initiated by leaders from Guangdong and Singapore to serve as a strategic development platform and a model for economic transformation and industrial upgrading. SSGKC is positioned as a unique, vibrant and sustainable city that is highly attractive to both talents and knowledge-based industries. In the next 20 years, SSGKC, covering an area of 123 sq km, is expected to house a live-in population of 500,000 and will provide a harmonious 'live, work, learn and play' environment. Since the founding of the SSGKC project, it has been viewed as a model for Guangdong's economic transformation. Favourable policies have been granted to ensure the smooth implementation and development in the areas of talent development, industry promotion, technology, and finance.
New Silk Road Energy (NSRE) is a UK registered company, with offices in London and representatives in Edinburgh, Guangzhou and Beijing, China. NSRE's expertise covers five technical areas, including carbon capture and storage (CCS), natural gas power, renewable technologies, nuclear power, and low-carbon city and community planning. NSRE will represent, promote and/or act as a European project development partner to source European business for Chinese energy companies bidding for design and/or EPC and/or supply contracts in the power sector. It will also provide consultancy services for power companies and power engineering design institutes, and introduce investment from Chinese companies wishing to co-invest alongside European investors in power generation and related third party projects in Europe/UK. It will also will provide support to Chinese institutes in developing low-carbon enterprise parks and low-carbon communities, source "green field" renewable/low carbon energy projects for potential development and co-investment by Chinese and European owners. NSRE possesses all the technical, academic, commercial, financial, relationship and political skills necessary to assist the penetration of low-carbon technologies into the EU and China.
CO2DeepStore invests in the development of Carbon Capture and Storage (CCS) projects to support climate change mitigation. CO2DeepStore is a leading developer of CCS projects, with a focus on CO2 transport and storage solutions for major CO2 emitters. Investing in projects since 2007, CO2DeepStore have been equity partners in several major UK CCS projects. CO2DeepStore is currently leading the development of the Acorn CCS project in North East Scotland. CCS is one of a number of low-carbon technologies required to deliver sustained reductions in CO2 emissions to mitigate climate change. CCS is complimentary to renewable power generation, as it supports decarbonisation of industry and heat, in addition to decarbonisation of electrical thermal power generation.