During 6th- 16th September, the 13th session of the Conference of the Parties (CoP13) to the United Nations Convention to Combat Desertification (UNCCD) is held in Inner Mogolia Erdos, which is the first time to have the CoP in China, and the theme is "Combating Desertification for Human Well-being". About 2,000 delegates from 196 parties and more than 20 international organizations attend this great activity.
In response to this conference, the State Council set up a Special Organizing Committee, and Vice Premier WANG Yang serves as the chairman of the Organising Committee of the general assembly.He pointed out that combating desertification is an undertaking in the present age and a cause for the future. It is a mission of all mankind, and the Chinese government attaches great importance to desertification control.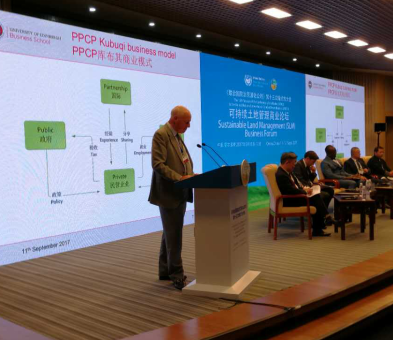 In Sustainable Land Management (SLM) Business Forum, Senior Advisor of UK-China Guandong CCUS Centre, Chair of New Silk Road Energy Ltd and Former Chair of UK Parliament Energy and Climate Change Select Committee Mr Tim Yeo made a speech on Sustainable Business Models and Ecological Benefits of Combating Desertification base on the report of Successful Practice of Desert Economics: Kubuqi Business Model Review, which is completed by University of Edinburgh Business School, China International Engineering Consulting Corporation and UK-China (Guangdong) CCUS Centre. In this report, it is summarized that Elion Resources Group unremitting practice in Kubuqi Desert governance, evaluated the feasibility of Elion in ecological restoration, ecological planting, ecological tourism and ecological photovoltaic and commercial viability, and comparative analysis of some typical cases in parts of Africa. It is supposed that Elion's successful experience from the Kubuqi business model can be used for reference in Africa, the Middle East and other foreign Desertification Areas.
This study suggests that there are six factors made the successful Kubuqi Mode: the scale of desertification control system, combined with the means of science and technology, the use of local resources, considering the social welfare, fully mobilize the government, enterprises and strength of local community. And two views are mentioned in this research: 1) The government should consider extending the tenure of land related to desert control so as to encourage the enthusiasm of enterprises and herdsmen, and; 2) Recommending to consider the introduction of market mechanism, such as the "Desert Transaction Control Certificate", certificate of compulsory purchase of real estate enterprises, leveraging the real estate industry to promote its efforts, for the benefit of future generations.