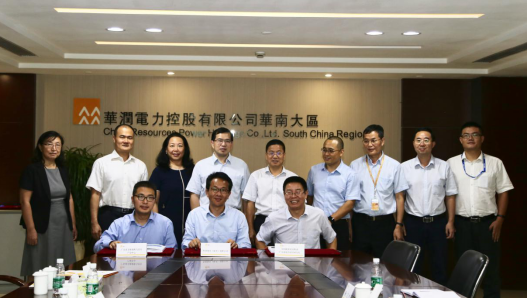 (Picture: The Signing Ceremony)
12th September,2017, the EPC contract for China Resources Power Haifeng CO2 Capture Testing Platform has been signed by Mr Liu Qiuyang, Deputy General Manager of China Resources Power South China Region (CRP), Mr Pei Aiguo,Chief Engineer of Guangdong Electric Power Design Institute (GEDI) and Dr Xi Liang, Secretary General of the UK-China (Guangdong) CCUS Centre/ Senior Lecturer of The University of Edinburgh. The project formally enters the detailed engineering design, procurement and construction stage. This is also a remarkable progress for CCUS development in South China.
With support from GEDI, UK-China (Guangdong) CCUS Centre completed the project engineering feasibility study in January, 2017. The project received final investment decision by CRP in March, 2017. And the technology and equipment selection work will be continuous. According to the schedule, the project Phase I will complete construction by the end of 2018.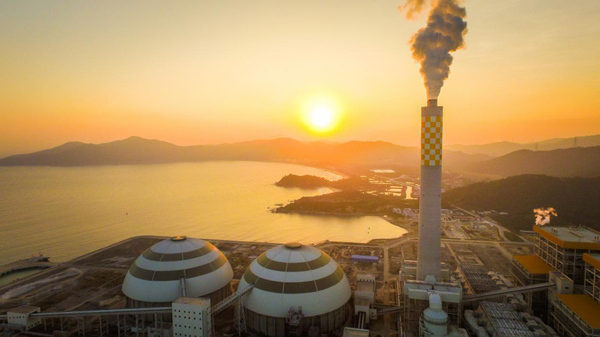 (Picture provide by CRP Haifeng Power Plant)
Project Introduction
CRP Haifeng Power Plant is a typical coastal power plant, which is located at Xiaomo, Haifeng, Shanwei, Guangdong and facing South China Sea. As shown in relative researches, adequate potential carbon dioxide storage sites have been identified in the Pearl River Mouth Basin of northern South China Sea. Haifeng Power Plant is about 120km from the nearest potential offshore geological storage site. In total 4 x 1000MW units are under Haifeng Plant's latest construction plan, and from which, 2 x 1000MW units has been put into operation in 2015.
CRP Haifeng Power Plant Carbon Capture Demonstration Project (in short, Haifeng Project) is a carbon capture technology test platform based on unit 1 of Haifeng Plant. The aim of this project is to build a fist demonstration platform to test different carbon capture technologies in parallel using real power plant flue gas at same time in Asia. Currently, similar projects worldwide include Norway Technology Centre Mongstad (TCM) and U.S. National Carbon Capture Centre (NCCC). Haifeng Project will be the third open access multi carbon capture technology test platform project in the world, and it will cooperate with TCM and NCCC.
Commercial demonstration of large-scale carbon capture will be conducted after the successful construction of project Phase I and Phase II. The total investment of project Phase I will be 100 billion RMB, including the free package, service and installation of consumables provided by the technology suppliers for the benefits of the demonstration. In technical aspect, this project is fully supported by UK CCS Research Centre, Scottish CCS Research Centre, The University of Edinburgh, Shell Cansolv Netherland and TCM Norway, etc.
Five out of fourteen capture technologies were selected as candidates from two rounds technology screening, including 2 amine absorption carbon capture technologies, a pressure-driven membrane carbon separation technology, a vacuum membrane carbon separation technology and a physical adsorption technology. At current stage, the project plans to build two sets of carbon capture testing units in parallel with 10~50 tonnes CO2 captured per day. From those five technologies, two will be selected and deployed in the project Phase I - carbon capture technology test platform, and the other three technologies are considered to be deployed in the technology test in project Phase II.
In this project, the recruitment and selection of the carbon capture technology supplier is worldwide. These suppliers need to offer a technique package including a capture plan, the capture technology, the equipments and the follow-up technique support team and consumables. CRP Haifeng Plant will provide the test place, a complement office and accommodation to each selected supplier. Potential suppliers will perform a 6~12 month carbon capture test using real flue gas from coal fired power plant in the carbon capture technology test platform.
Aim
After the evaluation of the carbon technology test in this phase, the selected technology will be deployed to the 1 Million-tonne Scale Full Chain CCUS Demonstration Project which based on unit 3 and unit 4 of CRP Haifeng Plant.
In project design, an engineering design will be reserved for the test platform to accommodate other innovative carbon capture technologies in the future. It is expected that this project would contribute to the technological innovation and the mid-scale pilot enlargement, the breaking down the barrier between the agencies in cooperation, and CCUS research and deployment.
Note: Guangdong CCUS Centre is the executive institute of UK-China (Guangdong) CCUS Centre, registered in Guangdong, China.