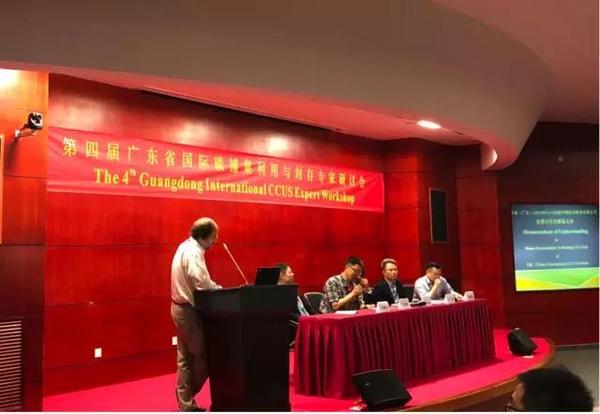 From April 24th to 25th, the China-UK (Guangdong) CCUS center (i.e., Guangdong South Carbon Capture and Storage Industry Center) hosted the 4th international professional workshop for carbon capture, utilization and storage of guangdong province and other related activities in Guangzhou with the scheme for knowledge sharing and capacity building.
Leaders and experts from more than 20 organizations attended the workshop, such as the National Climate Change Strategy Research and International Cooperation Center, Guangdong Development and Reform Commission, the British consulate general in guangzhou, the Norway Embassy in Beijing, the Canadian consulate general in guangzhou, GCCSI (global carbon capture and storage institute), UK financial climate investment funds, the UK carbon capture and storage research center, Norway Mongstad technology center (TCM), Canadian international carbon capture and storage knowledge center, the Asia development bank, etc..
The theme for the workshop is about how to promote innovation and cost reduction through knowledge sharing. Ma Li, the general manager for the South China district of China Resources Power introduced the construction schedule of Haifeng carbon capture test platform. He said, the project is expected to put into operation by the end of 2018, it will use the membrane-based and the amine-based carbon capture technology, and will set up a professional operating company to operate first carbon capture technology test platform in Asia.
Professor Jon Gibbins , the director of the UK carbon capture and storage reaserch center or introduced the development of the post- combustion carbon capture technology, and emphasized the importance of coal- fired power plant carbon capture technology for China, and the importance of international cooperation to nearly zero emission technology.
The director of the China-UK (Guangdong) CCUS center Pei Aiguo stressed the significance of Haifeng project to climate change. The secretary general of UKCCSA, Dr. Liang Xi emphasized the importance of knowledge sharing and cooperation promotion. After the workshop, the experts went to Haifeng Carbon capture test platform for field research on April 25th.